Do you love kids?
Are you looking for a legitimate work from job that offers flexibility?
VIPKID is a great company you should consider!
I'll go into more detail about everything later in this post, but let me give you the quick rundown (and answer some questions I'm sure you have):

VIPKID allows teachers anywhere in the world to teach english to elementary school-aged children (4-12).You don't need to know any other language (except english of course!) and you don't need any formal teaching experience (but you do need some experience with children).

You do need a bachelor's degree though (any major).

You can make up to $22 an hour.
---
VIPKID is a company that connects children in China to teachers all over the world, so they can have one-on-one video English lessons. They employ hundreds of thousands of teachers all over the world, and have over 500,000 students!
Fun fact about VIPKID, they won #1 on Forbes magazine's "Best work from home companies" list in 2018!
What kind of students will I be teaching? You will be teaching Chinese students who are between the ages of 4-12.
What do VIPKID teachers teach? You will be teaching english, and some things about American/Canadian culture.
---
How does teaching for VIPKID work? What is it like?
Each class is one-on-one through a skype-like app, and are scheduled into 30-minute blocks.
VIPKID will provide the teaching material / curriculum, so all you need to do is review the curriculum yourself, and maybe have some props handy to make the class more fun!
If you'd like to see a day in the life of a VIPKID teacher check out this video:

Do I need to create my own lesson plans? Nope! VIPKID will provide lessons plan for you to follow!
Do I need to buy any materials to teach? Hmm yeahhh-no? While VIPKID does provide the lesson plans, many teachers buy props or small things like whiteboards, maps, etc to help with their teaching (and to make it more fun!).
You also need to make sure you have a headset with a microphone and a webcam.
How much experience do I need to become a VIPKID teacher? You only need a bachelor's degree, and at least one year of experience working with children (can be tutoring, basbysitting, teaching, or something similair). You don't not need any traditional teaching experience.
---
How much can I really make? How do I get paid?
Here's the chart right from VIPKID: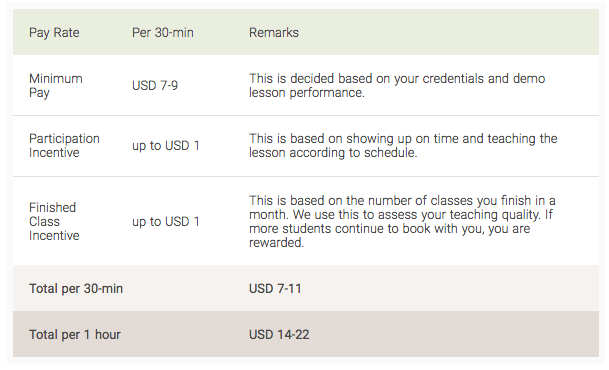 So for every hour you teach (two 30-minute blocks), you can make anywhere from $14-$22!
And the VIPKID website states that teachers are paid with bank deposits once a month, sometime between the 10th and 15th of each month.
---
How do I apply to become a VIPKID teacher?
There is a 5-step process for becoming a VIPKID teacher:
Application:

To get started, visit VIPKID to fill out the online application.

Interview

If you meet the basic requirements and experience requirements, you will either have a one-on-one interview with a VIPKID recruiter, or you will record a demon lesson (that will be evaluated).

Introduction To Teaching

You will learn about how VIPKID works (the tech behind it, curriculum used, etc).

Mock Class

You will do a practice class with a VIPKID teacher.

Paperwork

You will sign your contract, upload all the proper documentation, and complete a background check.
Then you're a full-on VIPKID teacher!
---
Become a VIPKID Teacher!
If you want a job you can do ANYWHERE and ANYTIME (perfect for digital nomads and stay at home moms!) – sign-up to become a VIPKID teacher!