Want to learn how to get free gift cards online? Keep reading!
How's that for an intro? 😉


Fine I'll give you the long version.

Gift cards are seriously awesome – I mean yes, cash is better (and some of the websites below let you earn cash also), but I find that cash can go into debt repayments or squandered away on other random things that weren't planned.
With gift cards, I can use them for exactly the thing they were meant for. If I get a gift card for the movies, I'm seeing a movie! If I get a gift card for Red Lobster (when is unlimited shrimp coming back??), then I'm using it for Red Lobster! And I don't have to feel bad about it, since that's what it's for.
I know it sounds goofy, but when I make extra cash I feel obligated to put it all towards debt!
But hey, treat yo' self [within reason].
If you're interested in learning how to get free gift cards online, check out the websites / apps below!
---
✅
Survey Junkie and start earning money! You can earn $10 in just a few minutes!
If you've been reading this site for a while, you probably have heard me talk about this one a thousand times already.
Sorry Not Sorry
See, Survey Junkie is my absolute favorite way to make extra money. And for good reason, it's one of the only survey websites that are actually worth my time.
If you're in the US, Canada, or Australia you can use Survey Junkie to take surveys online for cash (or gift cards!).
Survey Junkie always has at least one survey available that you can take, usually they are under 15 minutes, and you can also take surveys from your phone.
If you want the full review, check out our Survey Junkie Review
---
Swagbucks is my second favorite way to earn gift cards (I mean you can't love everything, right?).
What makes me love Swagbucks is how many ways there are to earn money on that website. Seriously.
It's not just surveys! You can earn money for shopping online, for watching short videos, answering 1 question polls, searching for things online, and for playing free games!
When taking surveys on Survey Junkie gets boring, I head on over to Swagbucks and I play some games and do some web searching, and I get money for it!
If you're in the US, Canada, or Australia, give Swagbucks a try (you also get a $5 sign-up bonus!).
---
10 Million MyPoints members have been awarded over $236 Million in Gift Cards and PayPal Cash since 1996! How's that sound?
With MyPoints you take surveys, and you earn points for those surveys, and then you can redeem those points for gift cards and PayPal cash!
Also, like Swagbucks, you can use MyPoints and earn money by watching videos, shop online, play games, and read emails with offers.
If you're in the US or in Canada, check out MyPoints!
---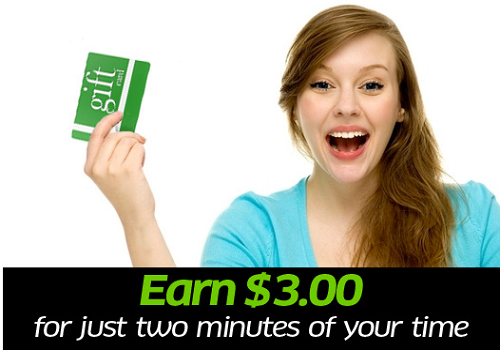 Do you shop on Amazon regularly? If so, you should really check out ShopTracker!
ShopTracker is a computer app that tracks purchases you make on Aamazon (it's secure, and it removes your personal information – I promise!)
You get a $3 gift card within 48 hours after downloading the ShopTracker app, and syncing your Amazon account.
And every month the ShopTracker app is still installed, you can get a gift card!
---
Ibotta is another personal favorite of mine for earning extra money and giftcards – which is why I included it on the list.
But here's the thing, you can't technically earn gift cards for "free" using Ibotta – you have to make a purchase of some sort.
Let me explain a bit more, Ibotta is an app that gives you money for buying certain things at the grocery store, shopping online (through the Ibotta app), and certain other things like getting rides through Uber or Lyft. So if you do any of these things on a regular basis, you should really consider installing Ibotta!
Ready for my sales-pitch? (But seriously Ibotta is great).
You can download Ibotta on either iOS or Android, it's completely free to use, and you can also get a $10 bonus!
To get the bonus all you need to do is "redeem" an offer within 15 days of using Ibotta (buy a qualifying item, or make a purchase online through the Ibotta app). Easy, right?
Once you start raking in the cash you can either redeem your earnings for giftcards, PayPal cash, or Venmo.
I've been using Ibotta since 2017 (way before I ever became an affiliate, and I still love it and use it evey week when I go grocery shopping!
If you're interested in getting money back when shopping for groceries, sign-up for Ibotta right now!
You Can Watch This To Learn More:
---